1 Thessalonians 5:16-18 KJV 
16/ Rejoice evermore. 
17/ Pray without ceasing. 
18/ In every thing give thanks: for this is the will of God in Christ Jesus concerning you. 
Psalm 86:6, 7 NIV 1984
*
6/

Hear my prayer, O Lord; listen to my cry for mercy. 

7/

In the day of my trouble I will call to you, for you will answer me.
JESUS INSTRUCTS US TO PRAY IN FAITH 
 Matthew 21:22 NKJV * 22/ And whatever things you ask in prayer, believing, you will receive." 
  1 John 5:14-15 NKJV * 14/ Now this is the confidence that we have in Him, that if we ask anything according to His will, He hears us.  15/ And if we know that He hears us, whatever we ask, we know that we have the petitions that we have asked of Him.
James 1:6 thru 8 NKJV * 6/ But let him ask in faith, with no doubting, for he who doubts is like a wave of the sea driven and tossed by the wind.  7/ For let not that man suppose that he will receive anything from the Lord;  8/ he is a double-minded man, unstable in all his ways.  
  REVIEW WEEKLY BIBLE STUDIES #5 "FAITH HEALING" & #33 "HAVE FAITH IN GOD" AND BE SO BLESSED!!!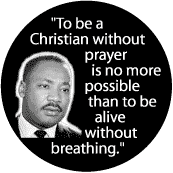 Reverend Dr. Martin Luther King Jr. is pictured directly above with his famous quote about Christian prayer.
  WHEN YOU'RE COVERED BY THE BLOOD OF JESUS [REVIEW WEEKLY BIBLE STUDY #6 "BLOOD OF JESUS"], 
 A
IS OVER YOU AS YOU PRAY IN THE HOLY SPIRIT.
["Praying In The Holy Spirit" Weekly Bible Study, coming your way soon]
 Jude 1:17-21 NKJV * 17/ But you, beloved, remember the words which were spoken before by the apostles of our Lord Jesus Christ: 18/ how they told you that there would be mockers in the last time who would walk according to their own ungodly lusts.  19/ These are sensual persons, who cause divisions, not having the Spirit.  20/ But you, beloved, building yourselves up on your most holy faith, praying in the Holy Spirit, 21/ keep yourselves in the love of God, looking for the mercy of our Lord Jesus Christ unto eternal life.
 Psalm 91:10-11 NKJV *10/ No evil shall befall you, nor shall any plague come near your dwelling; 11/ For He shall give His angels charge over you, To keep you in all your ways. 
PRAY IN THE NAME OF JESUS!!!
Colossians 3:17 NKJV * And whatever you do in word or deed, do all in the name of the Lord Jesus, giving thanks to God the Father through Him.