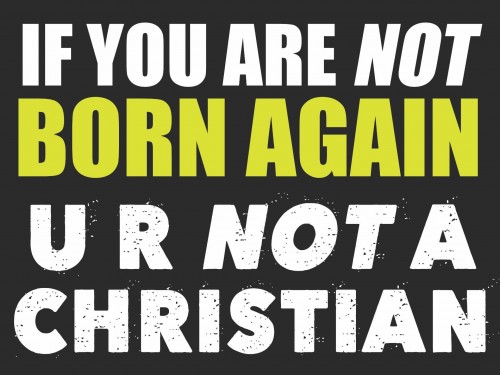 JOHN 3:1 thru 8 NLT * 1/AFTER DARK ONE EVENING, A JEWISH RELIGIOUS LEADER NAMED NICODEMUS, A PHARISEE, 2/ CAME TO SPEAK WITH JESUS.  "TEACHER," HE SAID, "WE ALL KNOW THAT GOD HAS SENT YOU TO TEACH US.  YOUR MIRACULOUS SIGNS ARE PROOF ENOUGH THAT GOD IS WITH YOU."  3/ JESUS REPLIED, "I ASSURE YOU, UNLESS YOU ARE BORN AGAIN, YOU CAN NEVER SEE THE KINGDOM OF GOD."  4/ WHAT DO YOU MEAN?"  EXCLAIMED NICODEMUS.  "HOW CAN AN OLD MAN GO BACK INTO HIS MOTHER'S WOMB AND BE BORN AGAIN?"  5/ JESUS REPLIED, "THE TRUTH IS, NO ONE CAN ENTER THE KINGDOM OF GOD WITHOUT BEING BORN OF WATER AND THE SPIRIT. 
*6/ HUMANS CAN REPRODUCE ONLY HUMAN LIFE, BUT THE HOLY SPIRIT GIVES NEW LIFE FROM HEAVEN.  7/ SO DON'T BE SURPRISED AT MY STATEMENT THAT YOU MUST BE BORN AGAIN.  8/ JUST AS YOU CAN HEAR THE WIND BUT CAN'T TELL WHERE IT COMES FROM OR WHERE IT IS GOING, SO YOU CAN'T EXPLAIN HOW PEOPLE ARE BORN OF THE SPIRIT."


2nd CORINTHIANS 5:17 NLT

* WHAT THIS MEANS IS THAT THOSE WHO BECOME CHRISTIANS BECOME NEW PERSONS.  THEY ARE NOT THE SAME ANYMORE, FOR THE OLD LIFE IS GONE.  A NEW LIFE HAS BEGUN!
1st PETER 1:23 NLT

* FOR YOU HAVE BEEN BORN AGAIN.  YOUR NEW LIFE DID NOT COME FROM YOUR EARTHLY PARENTS BECAUSE THE LIFE THEY GAVE WILL END IN DEATH.  BUT THIS NEW LIFE WILL LAST FOREVER BECAUSE IT COMES FROM THE ETERNAL, LIVING WORD OF GOD.
JOHN 6:63 NLT * AND THE VERY WORDS I HAVE SPOKEN TO YOU ARE SPIRIT AND LIFE.
HEBREWS 4;11 KJV * THE WORD OF GOD IS QUICK AND POWERFUL
THE WORD OF GOD HAS POWER TO CHANGE AND TRANSFORM LIVES: 
JOHN 15:3 KJV * NOW YE ARE
CLEAN THROUGH THE WORD
WHICH I HAVE SPOKEN UNTO YOU.
1 John 3:2-10 New American Standard Bible (NASB)
2/ Beloved, now we are children of God, and it has not appeared as yet what we will be. We know that when He appears, we will be like Him, because we will see Him just as He is. 3/ And everyone who has this hope fixed on Him purifies himself, just as He is pure.         4/ Everyone who practices sin also practices lawlessness; and sin is lawlessness. 5/ You know that He appeared in order to take away sins; and in Him there is no sin. 6/ No one who abides in Him sins; no one who sins has seen Him or knows Him. 7/ Little children, make sure no one deceives you; the one who practices righteousness is righteous, just as He is righteous; 8/ the one who practices sin is of the devil; for the devil has sinned from the beginning. The Son of God appeared for this purpose, to destroy the works of the devil. 9/ No one who is born of God practices sin, because His seed abides in him; and he cannot sin, because he is born of God. 10/ By this the children of God and the children of the devil are obvious: anyone who does not practice righteousness is not of God, nor the one who does not love his brother.
ROMANS 6:11 NLT * SO YOU SHOULD CONSIDER YOURSELVES DEAD TO SIN AND ABLE TO LIVE FOR THE GLORY OF GOD THROUGH CHRIST JESUS.
 WE BECOME BORN AGAIN WHEN WE TRULY REPENT OF OUR SINS AND ASK JESUS TO COME INTO OUR HEART TO BE OUR LORD AND SAVIOR.  THEN AS WE TAKE THE TIME AND RESPONSIBILITY, TO GET KNOWLEDGE AND UNDERSTANDING OF THE WORD OF GOD [TEACHING AND INSTRUCTIONS WRITTEN IN THE BIBLE, FOR LIVING A SPIRITUAL LIFE, PLEASING TO GOD; *ROOTED AND GROUNDED IN LOVE,
SEE EPHESIANS 3:17 THRU 19 *];
AND AS WE APPLY GOD'S WORD TO OUR DAILY LIVES; THE NEW BIRTH THAT TOOK PLACE IN US,   (GOD'S SPIRITUAL NATURE), BEGINS TO DEVELOP AND MANIFEST ITSELF THROUGH US,TO ALL THOSE WE COME IN CONTACT WITH.  WE KNOW WE'VE BEEN CHANGED, AND ALL WHO KNEW US BEFORE THE CONVERSION TOOK PLACE, BEGIN TO NOTICE THERE'S SOMETHING DIFFERENT ABOUT US, AND EVENTUALLY THEY COME TO KNOW ALSO THAT WE HAVE BEEN CHANGED.
JESUS COMES INTO OUR HEART WITH THE HOLY SPIRIT; THE FREE GIFT OF ETERNAL LIFE.  SO THAT WHEN OUR PHYSICAL BODY EXPIRES, WE HAVE A SPIRIT THAT HAS BEEN GIVEN ETERNAL LIFE WITH GOD IN HEAVEN.  ALSO, WE HAVE THE PROMISE OF RECEIVING OUR PHYSICAL BODY [IT CAN BE TOUCHED AND FELT], RESURRECTED AND CHANGED INTO A SPIRITUAL BODY [1st Corinthians 15:44 KJV * There is a natural body, and there is a spiritual body.] COMPOSED OF IMMORTAL  FLESH [no mortal flesh, or blood - please see 1st Corinthians 15:50 KJV], BONES AND SPIRIT [LUKE 24:39 KJV] THAT CAN NEVER DIE.  WE WILL RECEIVE OUR SPIRITUAL BODY AT THE SECOND COMING OF JESUS CHRIST (COMMONLY REFERRED TO AS THE RAPTURE)ROMANS 8:11 KJV * BUT IF THE SPIRIT OF HIM THAT RAISED UP JESUS FROM THE DEAD DWELL IN YOU, HE THAT RAISED UP CHRIST FROM THE DEAD SHALL ALSO QUICKEN YOUR MORTAL BODIES BY HIS SPIRIT THAT DWELLETH IN YOU.
ANYONE/EVERYONE/ALL OF THOSE DESIRING TO BE SAVED AND RECEIVE THE FREE GIFT OF ETERNAL LIFE, WITH THE BAPTISM OF THE HOLY SPIRIT, PLEASE SAY THE FOLLOWING PRAYER WITH ME:
Father God I want to receive salvation now, AND BE BORN AGAIN. I'm sorry for all of the wrong things I've done in my life. Please forgive me. I believe Jesus died and was resurrected and is alive forevermore. I now ask Jesus to come into my heart and be my Lord and Savior. I believe that by me receiving Jesus into my heart now, I am forgiven of all my sins and have eternal life with you. Please help me to learn more of you, and to diligently seek you and study your Word. Also please fill me with the Baptism of the Holy Spirit to overflowing capacity. Thank you Father God for loving me, saving me, and baptizing me in the Holy Spirit, in Jesus name I pray, Amen. 
IF YOU SAID THE ABOVE PRAYER, PLEASE CLICK ON AND READ, THE
 BE SURE TO CHECK BACK WITH USOCTOBER 7th-14, 2009FOR THE NEXT WEEKLY BIBLE STUDY